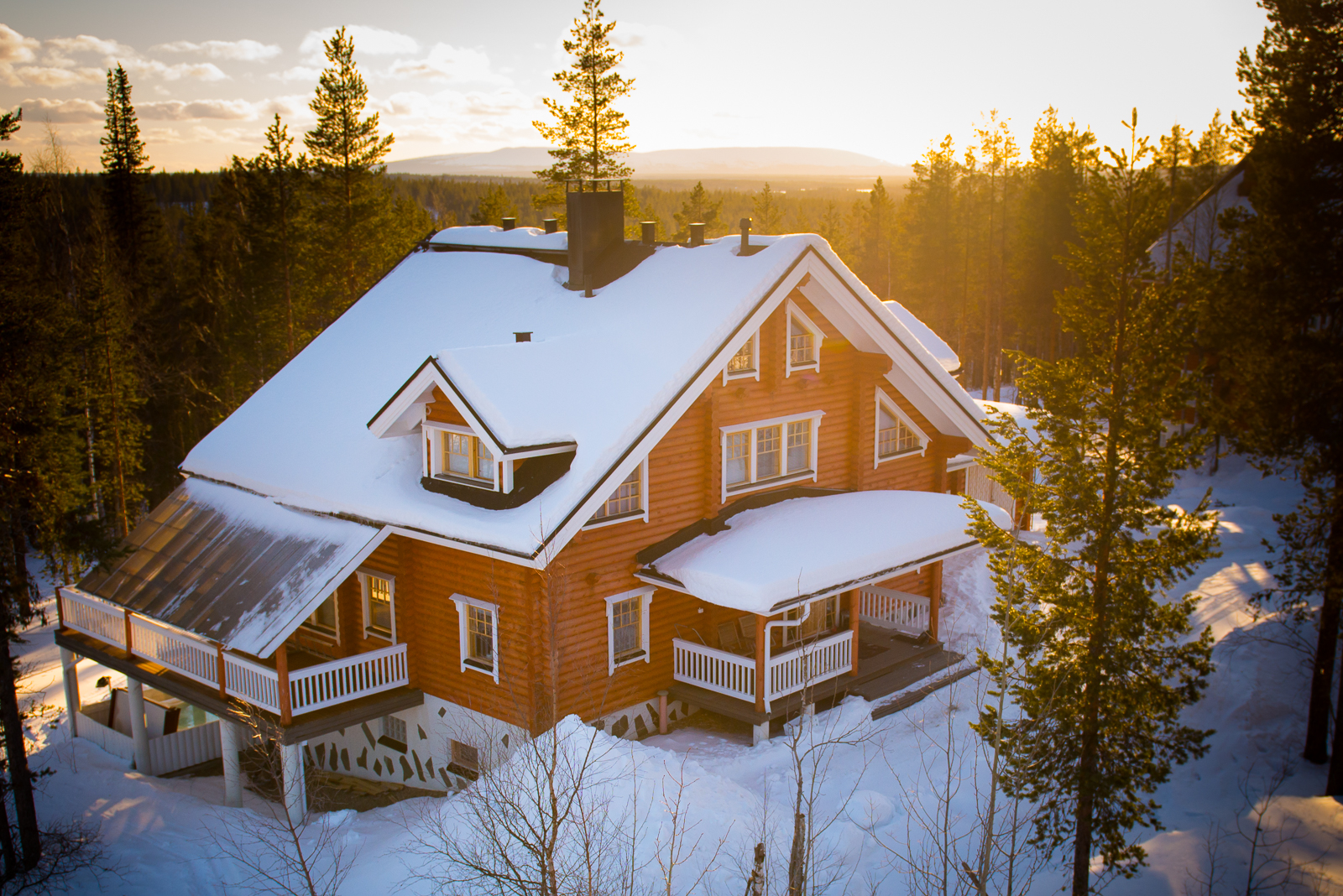 Welcome to Levi, Finland!
Rentmoon is one of the only lodges in Levi which offers you the unique possibility to ski in and out. Roll out of bed, strap on your boots at the basement ski room, open the door and start downhill or cross country skiing. From the slopes you can easily pull right back to your door and have lunch breaks etc. No busses. No lugging your ski equipment around. The nearmost restaurant, bar and other South Point facilities are conveniently in ski down or walking distance. This is ideal for families with kids, for persons who value high quality, traditional atmosphere and location. This is the Ski-in Luxury Lodging.
Rentmoon is made out of traditional Finnish log wood and situated at a quiet and peaceful place. If you want to head to the Levi downtown, it's only 10 minutes by car or by ski bus. We have five large bedrooms with private toilets, fully equipped kitchen, saunas and natural stone fire places. If you value traditional Finnish lodge, top quality and facilities, quiet location (no bars or restaurants next corner) and the superb possibility to ski in and out, Rentmoon is perfect choice for your dream vacation.
We want to make your stay pleasant and we want our guests to come back again. For any enquiries please contact us.
facilities
Rentmoon is 291 m2 across four floors and accommodates 12+6 guests. The dining table fits 14 people. There's a TV in each floor, WIFI and also a printer in the upper floor.
BEDROOMS
The five bedrooms each have their own private toilet and shower. Each bedroom has two single beds and one of the bedrooms has an extra sofa-bed.
On top of the bedrooms the top floor loft accommodates 6 guests.
Enterntainment
In the ground floor you have a sauna, steam sauna, fireplace, bar and karaoke equipment. From the sauna-area you can go out and straight into the outdoor jacuzzi. On the third floor there's a pool table and a nostalgic Playstation 2.
Ski tickets (4 pcs)
Four ski tickets are included and can be freely used during your stay. There is also equipment ready for both downhill and cross-country skiing.
location
Address: Rinnepolku 4 , 99130 Sirkkala
Rentmoon is located right besides the South Point of Levi.
distances
Levi Center:5,8 km, Grocery store: 6 km
Closest slope: 50 m, Closest track: 50m
Snowmobile track: 0,6 km, Golfcourse: 4 km Ski bus stop: 0,4km